MUNICIPALITY AREA
The Municipality of Korthi lies in the southern part of Andros island. It is crossed by two mountain massives, Gerakones in the north (which is the natural boundary with the Municipality of Andros)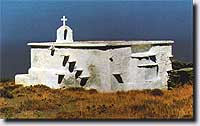 and Rachi in the south. In between lies the fertile Korthi valley and the impressive gorge in Dipotamata, with plenty of running water and the numerous water-mills. The area dominates the Kastro Faneromenis (Faneromeni Castle), old middle-ages fortification, with spectacular view of the Aegean Sea.
In the area you will find many sandy beaches, and the most known Grias Pidima beach. By a boat or walking, you will find even more isolated beaches, since the coast surrounding the area is dotted with smaller and bigger bays.
Following the old path-ways you will see wind and water mills, pigeon houses (peristeriones), monasteries and churches, bridges, lovely mansions with flowery balconies and bright green yards.
The administrative and economic center of the Municipality is Ormos. It is surrounded by many villages, mainly Korthi with Agia Triada church, Aidonia with the scenic spring, Piso Meria with the vast area of Steno, Kapparia with Plaka beach and Agios Georgios in Farali, Paleokastro area with villages like art paintings, Kochylou with Kastro Faneromenis (Faneromenis Castle) and scenic Syneti at the end of the gorge in Dipotamata.
In the following pages you will find information and lots of pictures.
Just follow us in the tour !