KASTRO FANEROMENIS (FANEROMENI CASTLE)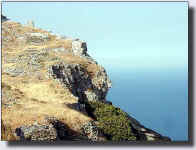 Kastro Faneromenis is one of the most characteristic spots in the area. It is situated on o peak near Kochylou, where is the access from.
It was built in middle-ages (although it seems there are signs of roman fortifications) for protection from the pirates, who ravaged Aegean Sea islands at the time. The position is ideal; inaccessible and at the same time offering an unlimited view of the sea.
Inside the Castle you will see the impressive protective walls, which, in many places, are in very good condition. Also ruins from numerous structures, many of which are underground and they are visible for the sole reason that its roof has collapsed. The legend says that through these tunnels there is a hidden passage exiting to the nearby Melissa coast.
Don't miss the big folklore festivities taking place in mid-August, by Panagia Faneromeni church, situated inside the Castle.