PALEOKASTRO
Paleokastro consists of many villages, each one with its own style and architecture.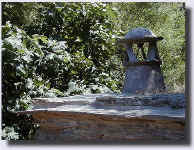 Piskopeio with the lovely house architecture, the wind and water mills, the scenic springs and the old Elementary School.
Lardia with the flowery gardens and the breath-taking view of Ormos and the open sea.
Gianniseo, high up on the mountain, with Agridiotissa church dominating in the area and the old Elementary School.
Exo Vouni in a pure mountainous environment. Mesa Vouni with the therapeutic spring Petrenia, the water-mills, the tiny monastery Agios Antonios, the Elementary School and the impressive geological formations, Lefkopodes, with signs of palaeolithic settlement. Don't forget to be there on August 23rd for the traditional Wine Festival.
Leaving Vouni, go to the remarkable Panachrantou Monastery, where you will admire the impressive interior and you will rest under the thick shadow in the yard, having a rare view of the central part of the island with Chora.