CHURCHES AND MONASTERIES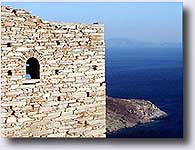 There are five monasteries and numerous churches in the area, places of spiritual rest and even entertainment, thanks to the festivities taking place in many of them.
The monasteries, abandoned today, are found all but one in Korthi area.
Tromarchia Monastery (Panagia Tromarchiani) is a beautiful, well preserved, monastery in Steno area, functioning till the middle of the last century. Built on a steep cliff, offers a unique view of the south-west part of the island and the sea. In the church inside the monastery, you will admire the woodcut iconostasis (temple) and the carved in marble inscriptions.
Alinou monastery, above Aidonia, Fletron monastery, high on Rachi mountain and Agia Moni, near the sea, will end your tour through the monasteries of Korthi.
In Paleokastro (Vouni), visit Agios Antonios, a small but worth seeing monastery.
Also visit Panachrantou Monastery, on the boudaries of the Municipality, just past Vouni, and admire the fine architecture and the view of the central part of the island.
As for the churches, you have to see Agia Triada in Korthi, which was the first school in Andros (established before the War of Greek Independance) and has many valuable manuscripts and other excibits, the byzantine churches of Agios Ioannis Theologos and Agios Nikolaos, also in Korthi and Agios Georgios in Farali, by the main road near Kapparia.
Finally, you will be impressed by the numerous country churches, some hanging on mounatains, while others are built next to flowery gardens, offering a refreshing site, revealing at the same time the artistry of its builders.