BEACHES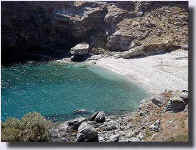 There are many beaches you will enjoy in the municipality area and there are more the isolated ones you will explore.
The most famous is Grias Pidima, near Ormos. In Ormos you will also find the large Mylos beach and the smaller Vintzi and Agia Aikaterini. Walking a short distance you will find Bouro and Melissa, where you will admire the caves. Your own boat or a fishing boat (kaiki) can take you to Ai-Giannis in Kremmydes.
In Steno area there is the large sandy Steno beach, while in the west coast you will find Plaka with the green-blue waters.
In Syneti you will enjoy the spectacular beach with the stalactites by the sea and a little further you will find the isolated Lidi beach.
The smaller beaches is up to you to discover !