SIGHTS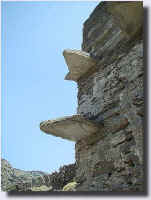 There are many places you can enjoy in Korthi. The jewels of the area, villages, Kastro Faneromenis, Dipotamata and Grias Pidima beach, will impress you.
You can also see the rare type of horizontal wind-mill (tavlomylos) and an extensive network of water-mills, unusual sight in Cyclades.
Admire the unique pigeon-houses (peristeriones) and the old churches and monasteries of the area.
And of course find out the fascinating beaches, some lively and full of people and others isolated, for every taste.
In all these places you may also go walking through the old paths, which are maintained systematically, gaining a rare experience and a deeper understanding of the place.
In a following page you will also find the photo-album with pictures of the area.