TREKKING IN KORTHI
Track B
Ormos - Kochylou - Dipotamata - Syneti

Proposed program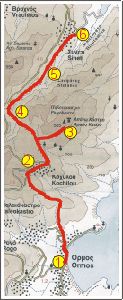 1. 9:00: Departure from Ormos

2. 10:30: Arrival in fascinating Kochylou. Short walk around the village. Half hour rest enjoying the view of the Aegean Sea.

3. 11:30: Arrival at Faneromeni Castle. Tour in the place and its history
4. 13:30: Arrival at the picturesque arched bridge in Dipotamata, busy crossing in past times. Half hour rest.
5. 14:00: Walk along Dipotamata gorge, a path through the natural and cultural history of the place.
6. 15:00: Arrival in scenic Syneti - lunch at a village taverna.
7. 17:00: Return to Ormos.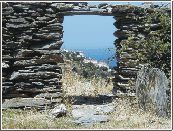 Information: